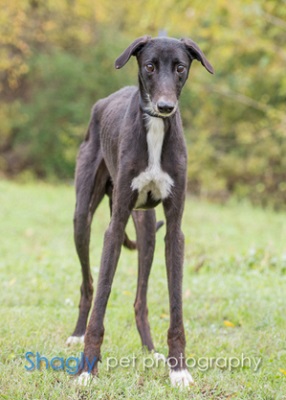 Clark is an approximately 2 year old black male found as a stray in west Texas, traveling with his partner Lewis. Clark weighs only 42 pounds. He is heartworm positive, he has very pale gums, and a heavy infestation of fleas. His Protatek tick panel results show he has a positive titer to Ehrlichia Canis, Rocky Mountain Spotted Fever and Babesia Canis. He is under the care of Dr. Christy Soileau and Dr. Jeff Ellis of VCA Preston Park Animal Hospital. Clark will need to gain some weight prior to starting his heartworm treatment and tick disease treatment. He and Lewis appear to be very bonded - no telling what these two "explorers" have seen and been through together.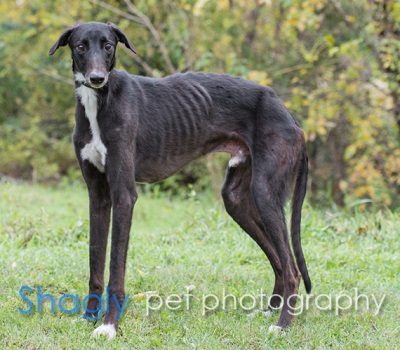 Clark has not yet been tested with cats or other small animals.
UPDATE 1/7/16
Clark received his first injection of Immiticide for his positive heartworm infection. He tolerated the procedure well and is being kept very quiet in his foster home at this time. His next treatment will occur in approximately 4 weeks.
UPDATE 2/10/16
Clark received his second treatment for heartworms on 2/8 and 2/9. He is being kept very quiet in his foster home for the next 60 days. It has been determined that Clark has a cataract in his left eye, which compromises his vision to some extent.
Clark's Journey
The special medical treatment cost needed by Clark is why the Miss Mesa Fund was established. If you would like to help with Clark's care, please take a moment to make a donation to the fund. You WILL and CAN make a difference in Clark's life and the lives of other greyhounds in need of special medical care. Your help and support will make a difference - one greyhound at a time.
Through the GreytStore

DONATE

Through PayPal

By Check

Greyhound Adoption League of Texas
3400 Carlisle St, #310
Dallas, TX 75204

Please note Miss Mesa Fund/Clark on your check.