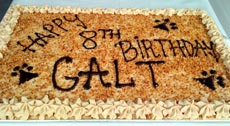 GALT could have not asked for a better day weather-wise to celebrate its 8TH BIRTHDAY PARTY! Pilot Knoll Park in Argyle again hosted tons of greyhounds and over 175 of their humans for an afternoon of celebration and fun!
Some of the greyt activities included performances by "The Gilley Girls" (Dancing Greyhounds), demonstration on cleaning/brushing your greyhounds' teeth by Kathleen Gilley, diving for hot dogs, vendors with greyhound and canine-related items, nail trimming, greyhound sketches, microchipping, raffles, lunch catered by Katie's Cafe, doggie birthday cake from Three Dog Bakery, human birthday cake... and more!!
The Gilley Girls, with their directors, Kathleen and Gil, have performed in 29 states and three Canadian provinces. They have appeared on two segments of Animal Planet and are Celebrity Dogs for the Annual Showcase of Dogs for St. Jude's Children's Research Hospital and were featured in Celebrating Greyhounds magazine among others. Having performed at 18 dog tracks, they hold the world record in that respect also. They live year round in a motorhome and are fast approaching the half-million mile mark. The Dancing Greyhounds are known for their obedience moves, free-style dancing, retrieving, leaping and jumps. They have dazzled crowds with their fancy footwork and dynamic drills for many years! From the beginning, The Dancing Greyhounds have been a full-time, self-supporting, unsponsored, not-for-profit, volunteer effort to support Greyhound Adoption and all-breed education. The girls travel 9 months out of the year, all around the United States. It's been seven years since GALT has had the honor to host the Gilley Girls. It was wonderful to have them perform at the 8th Birthday Party Celebration! GALT extends our heartfelt thanks to Kathleen, Gil and the Girls - Chimi, KC, Golden, Haley and Pipa - for spending their valuable time with GALT!
Also attending, GALT's special guests, The Roots and Shoots Homeschoolers East. Their booth was filled with an assortment of greyhound inspired creations, which was the result of a six month project about Greyhounds and GALT! Homeschoolers East's mission is to provide homeschool families of diverse backgrounds with educational opportunities that develop the individual's academic and spiritual potential, family partnership and unity. Roots & Shoots is the Jane Goodall Institute's international environmental and humanitarian program for youth of all ages. It is a fun and exciting way for young people to learn about problems and issues in their local and global community and then discover ways to make the world a better place. All projects are focused on improving the lives of people, animals and the environment. GALT was honored to have been chosen as their project!! The Roots & Shoots class members presented what they have learned about GALT and greyhounds in various mediums.
But perhaps the best way to describe the day is a letter written to Vain Irwin, now Sirius, from his former foster sister Tina Milner:
Dear Vain, oops I mean Sirius,

I am so sorry I have been remiss in corresponding sooner but I was waiting to tell you about a special GALT event that was held last Saturday in a beautiful park on a lake near Dallas.

Mom told me that I was the "chosen one" that would get to go to the party but I wasn't allowed to tell Jetty (my companion at home) because she is older and having a little trouble getting around. Mom and I both agreed that she might "slow us down" at the party. It was so exciting to take a long ride in the car; usually mom puts me in the car to either go to my doctor or dentist or the park and run in the baseball field. The drive was much longer than I anticipated and I got a little "cranky" towards the end. It took us about an hour and fifteen minutes to get there and some of the back roads were pretty bumpy. Luckily, Mom had taken my bed with us so I could lay down rather than try to stick my nose out of the window (I like standing in the car much better but mom said I must lay down and be quiet). She did throw a milk bone back to me every once in awhile. I think she thought I would lay down and be quiet if she gave me a treat. I love the car because I play a little game (usually with Jetty). When I get bored, I make as many "nose prints" on the windows as I possibly can. Mom saw me doing it in the rear view mirror and made me sit down. That was OK because I was still able to reach parts of all the windows so I could decorate them with my "artwork".

When we arrived at the park, I was overwhelmed with the number of greyhounds and their people that were there. I remembered that Mom told me that it was GALT'S 8th ANNUAL BIRTHDAY PARTY!!!!!! and what fun it was!!!! (I love to change colors on the computer.) We had tons of greyhounds in attendance and most of them brought their people with them. There were so many fun things to do that I couldn't get around to all of them. We "bobbed" for hot dogs in water (I don't really like water on my face but I do love hot dogs so I just shut my eyes and went for it!). Mom got my nails clipped and we had a big birthday cake just for us (I think there was some other kind of cake for the humans but it wasn't as good as the greyhound cake). Mom also put tickets on some very fun items she calls a "silent auction" (I helped her choose which ones I liked and she put tickets in a bucket). I had no idea what she was doing but when a man with a very loud voice (mom said it was a "microphone" so everyone could hear if they won) called the numbers, she jumped up and down and said I got a beautiful new collar (a real thick one) and a wonderful leather pouch with an outline of a running Greyhound stitched into it. I later learned that she puts the pouch on her belt when we go for a walk and suddenly treats appear. She's never done that before. I really like the pouch thing. I didn't have much faith that she would win anything because a lot of other people put tickets into the buckets too. I was worried that we wouldn't win but she said that was good that there were a lot of tickets in each bucket because we were raising money to help more greyhounds that don't have mom's and dad's or a home.

I must tell you about a most incredible thing I have ever seen. It's a team of Greyhounds called "The Gilley Girls". They wear beautiful "sparkley" racing coats and you won't believe this; they dance and jump and do all sorts of tricks to music. They travel all over the United States with their people in a beautiful motor home and perform at lots of events all over the country. They raise money for greyhound adoption groups so there can be more greyhounds that find homes.

Sirius, here is the most incredible thing! I was helping Mom in the X-pen while she was babysitting other greyhounds so their people could eat and buy stuff for their dogs. I looked over my shoulder and I couldn't believe what I saw. There was a beautiful, beautiful small dark brindle greyhound that looked exactly like you and he only had three legs!!!!! For a brief moment I was so excited. I thought you had come back to Texas to visit! Mom took me over to see him but she said that this was not Sirius (I'm just getting used to his new name) but another greyhound that was special like you 'cause he had to have surgery too!!!! I hung around him for a little while to see if I could play but he was more interested in what was going on at the party.

I was exhausted at the end of the day and was ready to stretch out in the back and sleep but mom brought home another foster. He had been in a home, but they were no longer able to keep him, so he was pretty sad. I explained about how much fun we have at our house and everyone has a huge pillow and lots of toys. I think that made him feel much better; my dad thinks he is very handsome and soft. I think I like him a lot.

Well Sirius and family, it's time for me to go for my walk. It may rain so we have to "get going NOW". I hope mom doesn't forget the new leather pouch with the treats.

P.S. Keep sending pictures, it looks like you are in a very beautiful place with wonderful parents and other dogs to play with. It sounds like your mom loves you very much; she has done so many special things for you (like the smooth rocks from the Sacramento River bottom). Stay in touch, we are all so happy for Vain (oops! Sirius) because he is so lucky to have had a wonderful adventure in an airplane so he could get to his "forever home". We love him and know he is in the best place he could possibly be.

Lots of Love,

Tina Milner (with a little help from her mom, Buffy)
GALT would like to extend a special thank you to Beth Lambdin, John Verlinden, Jim Wilson and GALT volunteers for sharing their awesome pictures of GALT's 8th Birthday Party! To see more of John's pictures, CLICK HERE.
In addition, a big thank you is extended to all of GALT's wonderful volunteers for giving of their time and energy at the Birthday Party.
Thanks for making this one of GALT's most successful Birthdays!