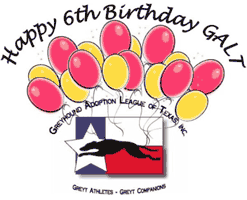 The weather in May in Texas is always unpredictable, and this year instead of having a 100-degree day or a 50-degree day, we had a very pleasant 75 degrees but with rain. Oh well, you can't have it all – at least not this time of year. But the cloudy, rainy weather did not dampen anyone's spirits. As usual, it takes a lot of volunteers to set up the event and to have everything ready when the first guest arrives and to keep things running smooth throughout the event. A big THANK RRRROOOOOOOO to all the volunteers.
The pavilion at Hoblitzelle Park in Plano was the perfect venue. GALT celebrated its sixth birthday in GALT style – with home cooked brisket, sausage, chicken, and all the fixins'. Add to the delicious food, greyt friends and you have a party.
The event began with a Blessing of the Hounds by Rev. Melissa Bitting. From there people went from vendors Sammye Conway and Royal Image Collars; to J. P. Bonnelly, obedience trainer; to have an Original Butt Sketch; to get a Tarot Card reading by Melissa McCurley; to have the dogs microchipped and ask questions of the vet, courtesy of VCA Preston Park Animal Hospital; and to have dogs nails trimmed by GALT volunteers (I can't say the dogs were too excited about that one).
The GreytStore did a brisk business, especially since the new T-shirt design was unveiled at this event. Everyone left with goodies for the dogs – rawhides, tooth brushes, blinking pet lights, can lids, GALT magnets, and dog biscuits
Everyone wished GALT a happy birthday with birthday cake (what would a birthday party be without cake?) Dogs and humans alike enjoyed visiting with other greyhound owners. It was wonderful to see some faces we haven't seen in awhile and to see new adopters there with their new greyhounds.
GALT is proud to have served the Greyhound community for six years and looks forward to many more years to come.