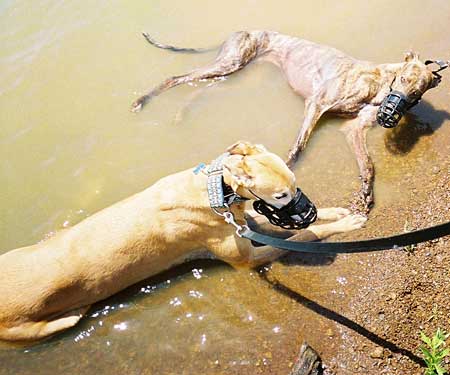 GALT celebrated its fifth birthday in a big way - with an afternoon of festivities on Lake Lewisville in Highland Village, Texas, on Saturday, May 13, 2006.
The City of Highland Village fenced an area near the lake that could be used as an off-leash play area for the dogs. They took full advantage of it (and more). Because of safety precautions (muzzles and human attendants) the dogs had a glorious time without incident.
The weather was as expected - a warm, breezy late spring Texas day on the lake! Smoked brisket, chicken, and sausage was provided by Joe and Anita Roberts, together with all the usual "fixins." Thanks to Kris Schuster for coordinating lunch.
GALT volunteers were everywhere. They helped at every kiosk, watched the dogs run in the play area, waded into the water to "corral" the dogs that wanted to swim to Oklahoma, trimmed nails, served food, sold merchandise, registered guests, sold raffle tickets, held dogs, and just generally helped wherever needed. GALT appreciates the donation of their time and efforts!
A commemorative etched paper weight, created and donated by Clay's Custom Creations (with the assistance of Kent and Sara Ramadan) was given to all participants.
Each guest also received a goodie bag of homemade dog treats. (Kristin Fields, Sara Ramadan, Helen Tuohy and Suzanne Burke were the chefs.)
Sarah Bray and Barbara Bray made laminated book marks with pictures of GALT's dogs on them - hope you got a picture of your Greyhound.
Many people made purchases from GALT's Greytstore, took advantage of the $5 nail trimming, took the Canine Good Citizen test, had photos of their Greyhounds made by John Hudson and had their hounds microchipped (donated by Dr. Jeff Ellis of VCA Preston Park Animal Hospital).
GALT had guests from California, Florida, and Missouri as well as from one side of Texas to the other (Longview to Amarillo) and including Austin.
Carla Myers, from St. Louis, Missouri, initiated a new game, Pin the Sticker on the Greyhound (OK, you get the idea - it's like pin the tail on the donkey) and donated five wonderful prizes to the winners, along with the funds raised from game.
The GALT raffle was a huge success and many people left with wonderful Greyhound-related items. Winners were Mary Hoiles, Sarah Bray, Jeff Ryder, Jane Tischler, Shelley Latta, Mark Bleise, Susan Verhault, Joanne Smith, Suzanne Cody, Keith Woodcox, Diane Busche and Mary Shelton.
Even though this technically was not an "adoption event," one greyhound (Nice Guy) found a forever home with Kyle Jones, who had previously applied to adopt a GALT greyhound.
After an exhausting afternoon, I bet there wasn't a dog standing on the way home! We hope to see you all again next year and in years to come. Thanks for helping GALT celebrate its first five years.