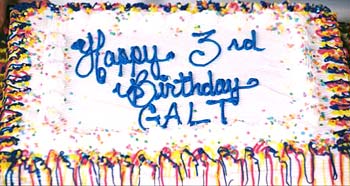 Happy Birthday to you, Happy Birthday to you, Happy Birthday to GALT, Happy Birthday to you.
And a Happy Birthday it was in spite of the weather being cold, windy and cloudy, and it was May 1! It didn't seem to matter to the almost 100 people and even more greyhounds who attended GALT's Third Birthday Party at Pilot Knoll Park on Lake Lewisville in Highland Village, Texas.
It helped to have good food, birthday treats (donated by Pam Hart - thanks Pam!) for the dogs, birthday cake for the people, lots of greyt raffle items and fun greyhound merchandise to purchase at the Greyt Store.
But the greyhounds enjoyed it the most! The City of Highland Village provided temporary fencing so there was at least an acre-plus of running area for the greyhounds bounded on three sides by Lake Lewisville and on one side by the fence. What a spectacular time the dogs had playing with each other and swimming in the lake (Who said greyhounds are not water dogs?). No waterfowl was caught, but it was not for lack of trying!
The mayor of Highland Village presented a gift to GALT which was auctioned, together with gifts from United Community Bank and the Cellar.
Services were available from the Original Butt Sketch Artist, Mary Beth Gibson, charcoal portrait artist, and Pet Psychic Robin Smith, making it a memorable celebration!
Unfortunately it began to rain as the party was breaking up but spirits were not dampened. However, we do hope for better weather next year.
Thanks to everyone, greyhounds and their people, for helping GALT celebrate three years of making a difference - one greyhound at a time.