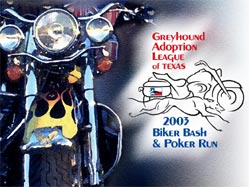 WOW!!!! GALT'S FIRST ANNUAL BIKER BASH WEEKEND WAS A ROARING SUCCESS!!!!!
The Stanley Cup and Craig Ludwig along with 200 hockey, biker and hound fans kicked the event off Saturday evening at Oliver's Eatery, 4727 Frankford Road in Dallas. Everyone enjoyed a delicious buffet dinner and an array of silent auction items, and of course, pictures with the Stanley Cup!!!! Phil Pritchard, Director of Resources and Acquisitions for the Hockey Hall of Fame, was the official weekend escort for the Stanley Cup. Russ Martin stopped by, sans the Batmobile, to pay his respects, as did Lewis Rodriguez of Lone Star Biker Bash with his Chopper, Zeus.
Sunday, November 16, could not have had more beautiful weather, as GALT hosted the 2003 Biker Bash and Poker Run, giving hockey and motorcycle enthusiasts around the Dallas/Fort Worth area the opportunity to cruise alongside the legendary Stanley Cup and former Dallas Stars Craig Ludwig and Guy Carbonneau.
Kick-off and registration were at Dr Pepper StarCenter - Frisco, home of the Dallas Stars and Texas Tornado Hockey Club at 11:00 am. The all-day Poker Run included stops at Texas Stardom, Sneaky Pete's, Lone Star Country Club, Duke's Original Roadhouse, the Dugout and Strokers Ice House.
Poker Run prizes for Best Hand ($500), Second Best Hand ($250) and Worst Hand ($100) were awarded. A silent auction with sports memorabilia, gift certificates and other prized items was at the final stop – Strokers Ice House in Dallas.
397 Bikers attended the Bash and almost that many had their pictures taken with the Stanley Cup!
GALT's sincere thanks to all who participated to help on behalf of the greyhounds.
All proceeds from the Saturday event benefiting GALT and Sunday's proceeds will be shared with the Dallas Stars Foundation.