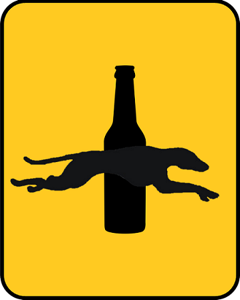 2014 GALT Beer Tasting Contest (BTC)
The 2014 GALT BTC held on October 18th in Argyle, TX, was a great success. Sponsoring brewers (all from the state of Texas) included Pedernales Brewing Company, Lakewood Brewing Company, Grapevine Craft Brewery, Rahr & Sons Brewing, Rabbit Hole Brewing, and Deep Ellum Brewing Company. Paradise Liquors of Argyle also donated a basket of Deep Eddy vodka for the raffle. Pedernales was kind enough to send two reps to the event, Bob Scherer and Aaron Hiler, who brought us even more beer!
We served nine beers in small glasses for the taste test and contestants had to guess the label for each on their score sheet. This year we published the sponsoring brewers before the event to give contestants a chance to sample some of the beers featured in the contest. Many people admitted that their good scores were due to "practice," including GALT Co-founder John McQuade, who guessed correctly on seven beers this year after dutiful training. The dog and beer trivia contests were absolutely vital to break ties.
The event was non-stop with food, raffle drawings, live auctions, bib decorating, and of course, the beer tasting competition. All funds raised are going directly to care for the dogs.
The 2014 GALT BTC Champions.
1st place: Melissa Paar.
2nd place: Eric Lendl.
3rd place: Jules Shantz.
Honorable mentions: Gabe Trainer, Will Winkler, Bob Scherer, and John McQuade.
A special thanks to those who volunteered their time for the event: Karen Vergamini, Lisa Bengelsdorf, Marcia Anderson, and Melinda Bechtel.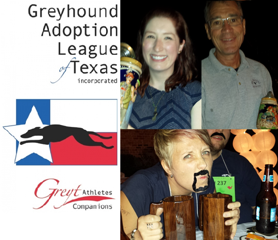 For thirteen years, GALT has been the organization for retired racing greyhounds in need of a forever home. Our motto of "No Grey Turned Away"™ means that GALT takes in many dogs, accepting greyhounds from racing organizations, owner surrenders, and animal shelters. Not to mention strays who are often in need of medical attention and TLC. GALT is an all-volunteer organization with 501(c)(3) non-profit certification. All donations go directly for the benefit of the greyhounds in our care.