Happy Hounds - Happy Homes: Radar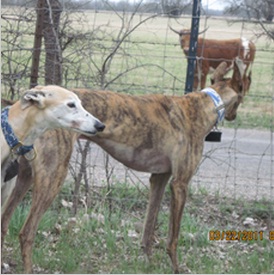 Our gorgeous girl greyhound Gaea was adopted from Greyhounds Unlimited in 2004. What a gentle, friendly, fun loving soul she has. She is a true omega girl, always at the bottom of the pack. If it weren't for her impatience at standing still and reminding us of that fact by "singing," she would have made the perfect therapy dog. As it is, we took her to my mother's various assisted living apartments and she was always friendly, gentle and well behaved.
We resisted adopting another dog, even though many fosters passed through our house on their way to wonderful forever homes. Eventually, however, we wanted a dog who could be certified as a therapy dog. Rod came to our home when his foster family went on vacation and we realized he was a good candidate for a therapy dog. He's a big happy boy with a beautiful brindle coat and large expressive ears. A naming contest among all the foster parents resulted in the acknowledgement that those big ears were most distinctive. "Rod" became "Radar" (thanks to Karen).

Radar is friendly and patient when we visit my mother at her assisted living apartment. He's gentle and polite with all the residents and staff. He passed his Canine Good Citizen test at the GALT 10th birthday party. We're working on a few more behaviors so that he can pass his therapy dog test too. Sometimes I look at him and realize how very handsome he is, and realize he wasn't chosen for his dapper good looks, but his debonair personality. He's the whole package, and aren't we the lucky ones to have been chosen by Radar to be his forever family.