Pets & Their People: The McQuades
By ALINE McKENZIE / The Dallas Morning News, 12/28/2002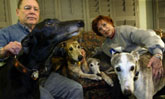 John and Susie McQuade, a mortgage company owner and a personal assistant by trade, have an avocation that takes up a "greyt" deal of their time: running a nonprofit group that rehabilitates and adopts out retired racing greyhounds. They keep needy dogs in foster homes or at a kennel in Addison, relying on about 50 volunteers to make the organization work. In 2002, they adopted out about 120 dogs. The organization, Greyhound Adoption League of Texas, has a Web site at greyhoundadoptiontx.org. Their own four dogs travel to Mr. McQuade's office every day.
Why do you have the pets you have?
"About 20 years ago, I saw greyhounds being put down in Juarez, Mexico, after a race and it haunted me for years. My wife and I saw them being put down with pipes and bats, beating them to death. I grew up in the horse-racing industry, and we didn't do that. We found homes for them. About seven years ago, we found out about a group and adopted our first greyhound. She was ... in terrible condition. We nursed her back to health, and she's still with us. She had gangrene in her tail and lots of parasites. She's the alpha dog with the others. We call her a GAP – a Greyhound American Princess. We're very caught up in greyhound welfare across the country. Texas produces a lot of dogs every year."
Where did you come up with your pets' names?
"We take their racing names, and if they're kind of cool-sounding we'll make a pet name from it. We have a blue whose racing name was Mars War Bonnet, and Susie always loved the name Katie, and so her name became Katie Bonnet, or Katie. Then we have a boy whose name was Dox Bobwire, so he's Bob. The next one is Angel, and her racing name was Angel, so that was easy. The fourth, his racing name was Koka Mo, and he liked it, he still answered to it, so he's Koka Mo."
When is your special time together?
"Early in the morning, we do about a 2-mile jaunt, all four, my wife and myself; that's our real special time, and weekends of course. They love to go in a car, love to go to restaurants where they have outdoor seating. They always draw a crowd, and we pass out brochures – we always carry them.
"We have somebody at the kennel every day. We rent part of a commercial kennel, so our volunteers are there every day. We hire someone if we need them for behavior modification, if they need to know how to walk on leash, and we teach all of them to sit."
What is your pets' favorite treat?
"They love yogurt and ice cream, but they have a special dog treat called Frosty Paws. Every evening at 7 they come and get me for their Frosty Paws."
Do your pets have quirks?
"Our little Katie just loves to get into handbags or any kind of bag. Bob was a champion runner, and he still loves to run. Koka Mo is our most trainable dog. He's food-motivated. Angel is the queen of the pack; she's the grand lady and does rule – even at 13 – the entire group. Sometimes she's what we call the fun police. If they're having too much fun, she comes and stops it.
"We've taught them all how to do little tricks. Greyhounds aren't known for tricks, but we've taught them to sit and settle, stand and chase balls, fetch and that sort of thing."
Where do your pets sleep?
"They sleep in our bedroom at night. We have 16 dog beds at home. In the den, there're four beds; in my office, there're four beds; my wife maintains her own office with four beds; and there're four in the bedroom."
Do your friends/family members like your pets?
"Oh, yes, they do. They didn't think they would, but now [the dogs] are welcome as much as we are. In fact, I think [people] like them better than they like us, because they're so good in crowds. We're invited into all sorts of venues for our meet-and-greets."
Do you kiss your pets on the lips?
"Yes, absolutely, but we do brush their teeth every day. True. They line up in the bathroom every day. Well, three. I think one isn't so keen."