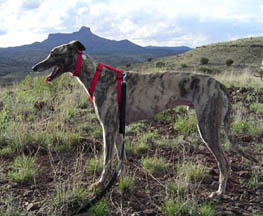 Since first getting Bullet for fostering I have noticed he is very car and travel friendly, so in April I decided to take him on a trip to my family's ranch in the Big Bend country.
---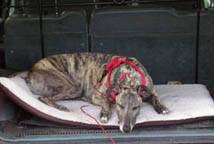 Give him a soft bed to lie on, a bone to chew on, and a window to look out and he's good for hours of travel.
---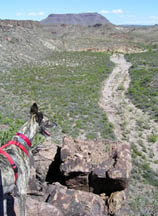 He is such a well-adjusted animal that he is just as happy hiking and listening to the wildlife (like coyotes in left photo), as he is sleeping off a run in the bison pasture after learning some animals DO chase back and KEEP chasing right up to the fence!
---
Whether the hike is on a city sidewalk or an 8-mile wilderness trail…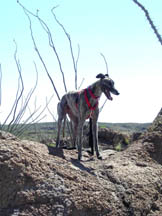 …he is always ready to explore…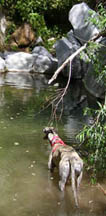 …and have fun!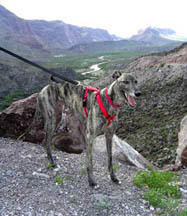 ---

If a watering hole or a cool shady spot is on the route, he's even happier.
---
While he may be fast on his feet when running with his buddies in the yard he is a very courteous hiking partner with very good leash manners and an excellent sure-footed ability to scramble up a boulder field. Whenever I stopped to take a picture or just enjoy the view he would either stand by and quietly listen to the sounds of nature or crouch in the tall soft grass and relax—although be careful because he blends right in!
---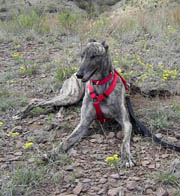 Bullet is a strong guy who doesn't mind carrying his own pack if a long hike is in the offing, but on this trip I chose to keep him light on his feet with the rocky terrain.
---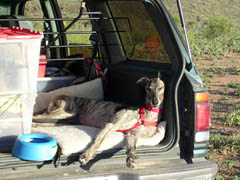 We managed to get out each day and hike the mountains and see the sights, but after each day's activities he was always easy to find after dinner.
---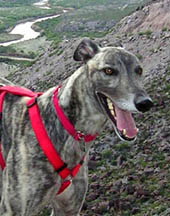 I can also report that Bullet is not afraid of thunderstorms, is very tent friendly, and stays in the campsite.
Bullet proves that the couch potato hound can also be a great backpacking buddy!