Making a Difference One Biscuit at a Time
by Stacy Samuels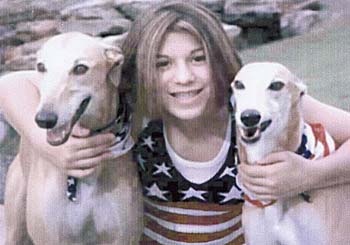 I have had pets all my life and I have wanted to be a vet for a long time. When my mom started something called the Eden Alternative at her nursing home (where they bring animals, plants, and children into the nursing home) I met my first greyhound. Being 10, I was a little skeptical about their size but not 10 minutes into the first introduction I was in what they call "puppy love." Since then I have had them everywhere. I now currently have two at my house and two at my mother's work which I visit very often.
When it came to my bat mitzvah project I was stumped. I looked into doing handicapped equine work, but I don't love horses as much as I do dogs. So coming home one day from a meeting with my rabbi I thought what a great idea to mix my love of dogs with my love of cooking. DOG BISCUITS!!!! I would look online for a recipe and had it narrowed down to just a few when I found one of the easiest recipes I think I have ever done. It consisted of two types of flour, cornmeal, dry milk, yeast, and beef broth. The second I started making it my two fawn greyhounds wouldn't leave the kitchen. It smelled like bread yet the taste to humans isn't that appetizing but to my dogs it is heaven in food form.
I decided to sell the biscuits and donate the money to the Greyhound Adoption League of Texas, Inc. (GALT). We adopted our second greyhound, Duke, from GALT and the two greyhounds at the senior care center where my Mom works were also adopted from GALT. So I have the biscuits made; now the question is where to sell.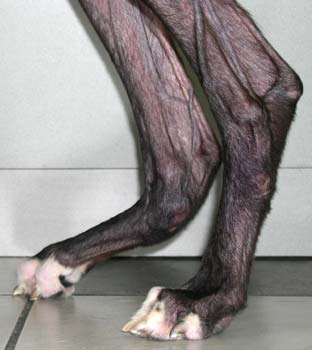 I decided to sell them at the dog park. This was fun but not effective. So we went door to door, which allowed me to get to know my neighbors and educate them about how hard a racing greyhound's life is. I raised $320 but I didn't do that all because of my dogs but because of the horrible life that greyhounds have in their racing careers as in this picture to the left is one of the most common injuries. The foot has been broken severely and must have a costly procedure. Fortunately dog racing has been controlled better than it was in earlier years but it is still happening. I love what GALT does -- they give greyhounds a second life, a second chance to live the life a dog should. I feel, although I didn't raise enough money to have the operation that the dog in the picture needs I still feel I am making a difference. I AM MAKING A DIFFERENCE ONE DOG BISCUIT AT A TIME.