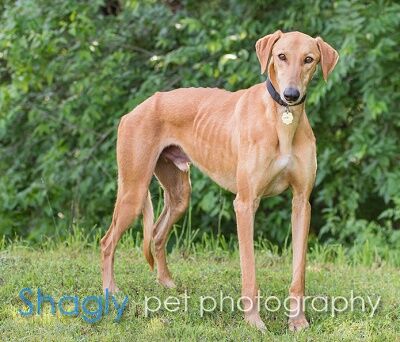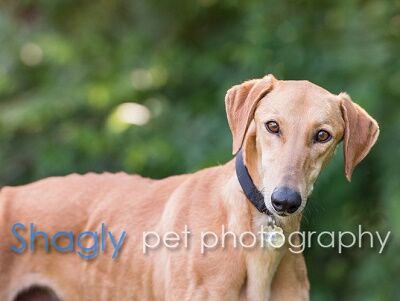 Zeb is an estimated 2 1/2 year old fawn male found as a stray in Grandview. Zeb was diagnosed with an ACL tear in his left knee as well as the same damage to his right knee. Surgery was performed on both knees, the left surgery on April 26, 2017, and the right knee surgery was on July 18.. X-rays taken on September 26 show Zeb is now fully recovered from his surgeries and is ready to find his forever home! It is not known at this time if Zeb is cat or small animal tolerant.
UPDATE 4/26/2017
Zeb has been diagnosed with an ACL tear in his left knee with damage also showing with an x-ray on his right knee. Surgery is scheduled with Dr. Bob Radasch of Dallas Veterinary Surgical Center on May 5 to repair his left knee. His recovery is expected to be 8-10 weeks, and then his right knee will be evaluated. Since Zeb arrived as a stray, there is no way to know the cause of this injury; however, the severity of it indicates a powerful blunt force trauma.
UPDATE 6/23/2017
Zeb continues to rehab in his foster home. He will be x-rayed on July 18 to see if his surgery has been successful. His right knee will be evaluated at that time to determine if surgery will be necessary.
UPDATE 7/18/2017
Surgery was successful on Zeb's left knee. However, Zeb's right knee x-ray showed he needed surgery for his ACL tear. It was performed, and he is being kept quiet in his foster home during his 8 week rehabilitation time.
UPDATE 9/26/2017
X-rays show normal bone healing to this point. Zeb is gradually returning to activity over the next 3-4 weeks, with some on leash and a little off leash play.
Watch More of Zeb
Watching Zeb evolve and seeing his cute personality emerge has been such a wonderful thing! He's turned into a confident, sweet, and playful boy with both his people and the other dogs in our house. Having had a fairly rough start—an unknown past as a stray and ACL repair surgery on both knees—he has adapted very well.

Zeb is crated during the day when we're at work but is loose in the bedroom at night. While he does appreciate a schedule, as most dogs do, he easily sleeps in with us on weekends. Zeb is a sensitive boy and wants to please, often offering his paw (sometimes both at once!) while we're relaxing in front of the TV. Zeb's forever home will absolutely love having this sweet, sweet boy gaze up with his gorgeous brown eyes!

Zeb's Foster Parents
The special medical treatment cost needed by Zeb is why the Miss Mesa Fund was established. If you would like to help with Zeb's care, please take a moment to make a donation to the fund. You WILL and CAN make a difference in Zeb's life and the lives of other greyhounds in need of special medical care. Your help and support will make a difference - one greyhound at a time.
Through the GreytStore

DONATE

Through PayPal

By Check

Greyhound Adoption League of Texas
3400 Carlisle St, #310
Dallas, TX 75204

Please note Miss Mesa Fund/Zeb on your check.