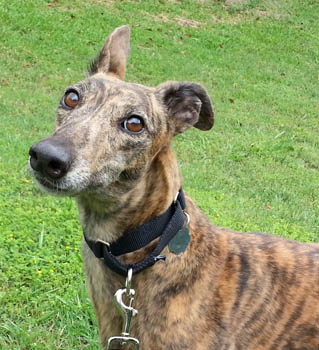 Softly, aka CTW Tread Softly, is a 4-year-old red brindle female born May 18, 2009. Her sire is Gable Oscar and her dam is CTW See the Game. Softly has 85 races on record on greyhound-data.com, all at the Birmingham track where she was a solid grade A racer, winning 23 times. She started her career on August 30, 2011 and finished it on December 4, 2012. Softly is sure to be appreciative of a soft bed to call her own! She has a previous racing injury to her right rear leg that has been evaluated and was in need of surgical repair. She had surgery at the Dallas Veterinary Surgical Center on June 25. She then had to have a follow up surgery to replace the pin used to repair her leg on August 9, as it was causing irritation. Finally, Softly had the screw holding in the second pin removed on December 10th. This sweet girl is finally ready to find her home!
Softly is not cat tolerant. Softly needs companionship - she should not be an only dog.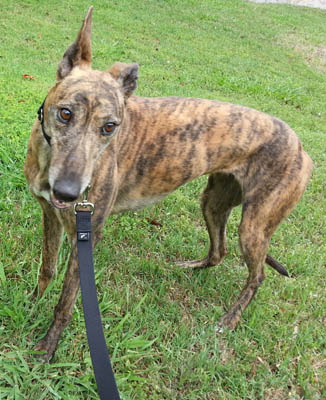 UPDATE 6/26/13
Softly's injury occurred on December 4, 2012, and has been diagnosed as a plantar ligament tear to the calcaneous to the 4th tarsal bone. Dr. Bob Radasch performed surgery on June 25, placing an IM pin along with 16 gauge wire from the calcaneous to the metatarsal region with cancellous bone harvested from the right tibia to pack the arthrodesis site. As with Soprano's surgery, it was tedious. However, Dr. Radasch is anticipating Softly will be back to using her right rear much better than she has been. As with all implants, these may have to be removed at a later date if issues arise. Softly will have weekly bandage changes for the next 8-10 weeks. It is imperative that her foster home keep her on restricted activity during this time.
UPDATE 8/9/13
Softly underwent surgery again today to remove the pin that was implanted on June 26, as it had backed out about ¾ of an inch causing irritation on the skin surface. Another pin was implanted securing it with a screw that will have to be removed after the bone is healed in another 6 to 8 weeks. Softly will be monitored very carefully in her foster home, and her activity level will be kept to a minimum.
UPDATE 10/25/13
Softly's leg is healed, and she is using it again after gentle rehabilitation with the help of her foster parents. But she will need a minor procedure right after Thanksgiving to remove a screw that was used to help repair her leg.