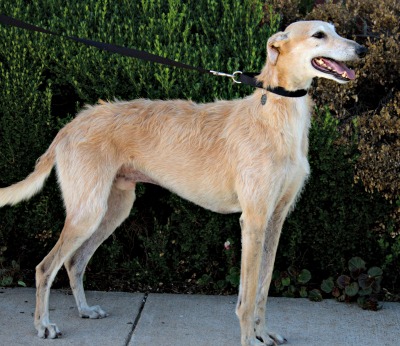 Jeff is an approximately 6 year old fawn male greyhound mix. He was found along with Jena as a stray in Amarillo covered with ticks. His medical evaluation reveals he has a positive titer to Ehrlichia Canis. Treatment will start soon. Jeff and Jena appear to be very bonded, and it is hopeful they can stay together in a foster home.
Jeff is not considered cat or small animal tolerant at this time.
UPDATE 4/7/17
Jeff has completed his treatment for Ehrlichia Canis and has a negative PCR test. Jeff has kidney insufficiency and liver disease secondary to tick borne disease. He will be on a special diet for the rest of his life as well as periodic medication.
Watch more of Jeff
Jeff is handsome blonde staghound. He's curious and very loving. He was found as a stray with a small female Saluki and he was her protector. Jeff had quite a battle with Ehrlichia Canis when he arrived and went through a lengthy treatment. He's doing very well now and is on a special kidney diet he will need for the rest of his life. Jeff has a good appetite and this particular diet has been beneficial to him. People are his favorite and he makes a great ambassador!! In his foster home, he tends to keep to himself, but a non-alpha female would most likely be a good choice as a mate or he may also do well as an only dog. He bonds well with people - both male and female. He likes to be around his humans and will cuddle on the couch. He makes great eye contact, so obedience training would be beneficial to him and his forever family to further a bond. His favorite things are walks and squeaky toys. He's a sight to behold as he prances when he walks and it is so incredibly beautiful to watch his proud strut. Be sure to keep that leash around your wrist because if he sees a small animal, he likes to chase. Jeff is a former hunting hound, so it's in his DNA. Because Jeff was used to a lot of outside space, his ideal home should have a fenced backyard. He likes to lay in the shade on a soft bed when he's not roaming the yard. Jeff lets you know when he needs to go potty by barking. As long as you listen to that queue, he has great potty habits inside. He also is trained to go outside to potty directly after he eats, so it is important to keep up this routine. The thing we love the most is when Jeff greets us when we arrive home. He does a happy dance and is so overjoyed to be with his humans once again. Jeff is a lovely hound with a beautiful loving spirit. He will need patience, love and understanding as he transitions to his new home and he will return his love three fold. He's always been respectful and in return he has earned our respect. Anyone would be lucky to have Jeff as his friend and companion. He is simply that wonderful!

Jeff's Foster Mom
The special medical treatment cost needed by Jeff is why the Miss Mesa Fund was established. If you would like to help with Jeff's care, please take a moment to make a donation to the fund. You WILL and CAN make a difference in JEff's life and the lives of other greyhounds in need of special medical care. Your help and support will make a difference - one greyhound at a time.
Through the GreytStore

DONATE

Through PayPal

By Check

Greyhound Adoption League of Texas
3400 Carlisle St, #310
Dallas, TX 75204

Please note Miss Mesa Fund/Jeff on your check.