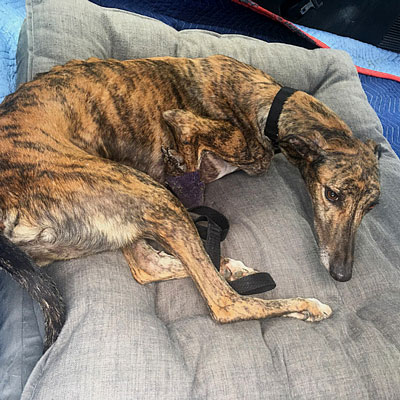 Gumdrop is an estimated two year old brindle female who is double tattooed. She was found in a rural area of Giddings, TX, that is known for dumping dogs on September 8 by the Giddings Animal Control. Her right leg was terribly mangled with her right wrist turned totally backward. She was kept for the mandatory 72 hours for a stray, and GALT picked her up on Friday, September 11, by caring GALT volunteers. After her initial intake at VCA Preston Park Animal Hospital, she was taken to Dallas Veterinary Surgical Center. It was determined by Dr. Doug Lange that amputation was the only alternative based on the amount of damage and atrophy in the leg. Dr. Lange estimates this is a chronic injury that is at least 8 weeks old, and perhaps caused by being ejected from a vehicle. Surgery for the amputation was performed on Tuesday, September 15 and deemed to be successful. She is being closely monitored by Dr. Lange, and he expects her to go to a caring foster home on Friday, September 18. Updates on her progress will be posted.
It is not known at this time if Gumdrop is small animal or cat tolerant.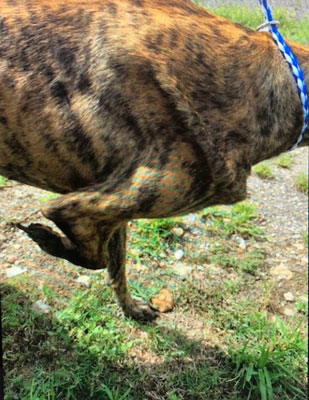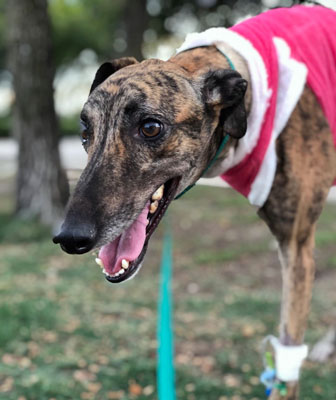 Watch more of Gumdrop
The special medical treatment cost needed by Gumdrop is why the The Dr. E. Kelly Nitsche Veterinary Care Fund was established. If you would like to help with Gumdrop's care, please take a moment to make a donation to the fund. You WILL and CAN make a difference in Gumdrop's life and the lives of other greyhounds in need of special medical care. Your help and support will make a difference - one greyhound at a time.
Through the GreytStore

DONATE

Through PayPal

By Check

Greyhound Adoption League of Texas
3400 Carlisle St, #310
Dallas, TX 75204

Please note The Dr. E. Kelly Nitsche Veterinary Care Fund/Gumdrop on your check.