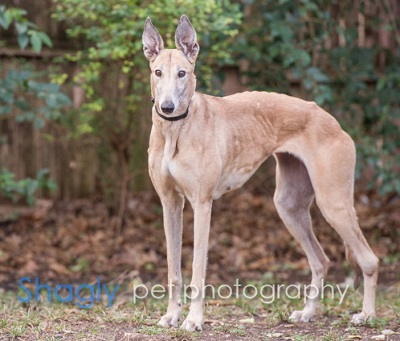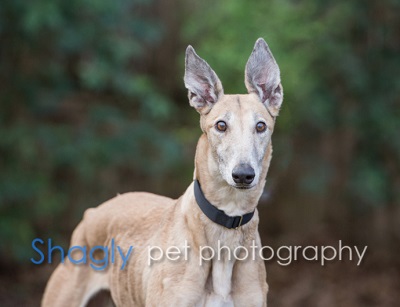 Fanny, aka Fanny Bay, is an 8 1/2 year old red female born January 27, 2010. Her sire is Kiowa Mon Manny, and her dam is Goldie Donna. Fanny has 175 races under her belt, starting at Palm Beach on July 25, 2011, moving to Ebro, Sarasota, Melbourne, and finishing at Pensacola on March 8, 2015. From there she went on to whelp 13 pups, 3 with TMC's Remedy on July 16, 2015, and 10 with KC and All on February 23, 2016.
When Fanny arrived to the GALT family, she had a swelling just above her left rear ankle. After an extensive evaluation, surgery was performed by Dr. Robert Radasch at the Dallas Veterinary Surgical Center. A gelatinous mass in the connective tissue was removed that has been identified as a myxcosarcoma. Fanny will begin radiation therapy on June 4, 2018, at VCA Animal Diagnostic Clinic for six weeks. Please keep Fanny in your healing thoughts. Fanny is not cat or small animal tolerant at this time.
The special medical treatment cost needed by Fanny is why the Miss Mesa Fund was established. If you would like to help with Fanny's care, please take a moment to make a donation to the fund. You WILL and CAN make a difference in Fanny's life and the lives of other greyhounds in need of special medical care. Your help and support will make a difference - one greyhound at a time.
Through the GreytStore

DONATE

Through PayPal

By Check

Greyhound Adoption League of Texas
3400 Carlisle St, #310
Dallas, TX 75204

Please note Miss Mesa Fund/Fanny on your check.