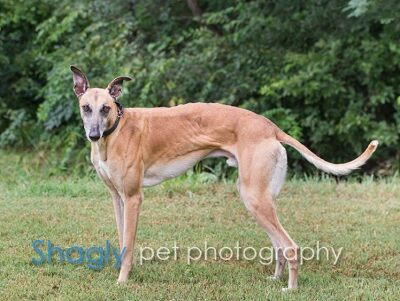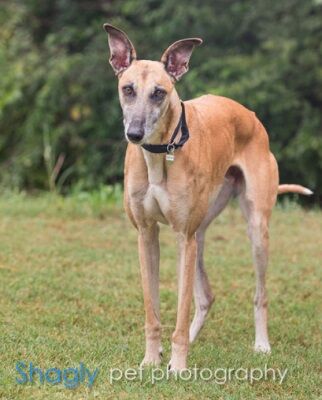 Einstein is an estimated 9 year old fawn male that arrived as an owner surrender from an elderly man living in the DFW area. GALT was contacted by a Meals on Wheels volunteer to ask if we could take a greyhound that was tied with a cable in the backyard of a MoW recipient, who was no longer able to care for the dog. Einstein is 9 years old according to the elderly owner, who said he had him since a puppy. GALT's vets do not think he is quite that old, but there is no way to be certain. When Einstein arrived in August 2017, he was heartworm positive. He has been successfully treated and is now heartworm negative! Einstein is not small animal or cat tolerant at this time.
Don't let canine Einstein's intense looks fool you, he's a sweet old man who would like nothing more than a soft bed, a yard to roam, dog friends and people to love.

Einy enjoys napping with his besties every chance he gets. When awake he likes to engage in a short game of big-mouth-bitey-face with his housemates. Walks are always fun so he can leave "pee-mail" on every mailbox, fire hydrant or sidewalk. He will happily alert you to people walking by your house if there's a window by the front door. Einstein rides well in the car, he sleeps through the night and knows the comfort of a couch on occasion. Mostly he just wants to be in the same room as one of his humans.

If expressive ears and a happy senior make your heart skip a beat, check him out. The "other" Einstein once said "A table, a chair, a bowl of fruit and a violin; what else does a man need to be happy?" Of course we think a dog (or 2) would truly make everything complete!

Einstein's Foster Parents
Watch more of Einstein
Through the GreytStore

DONATE

Through PayPal

By Check

Greyhound Adoption League of Texas
3400 Carlisle St, #310
Dallas, TX 75204

Please note Miss Mesa Fund/Einstein on your check.