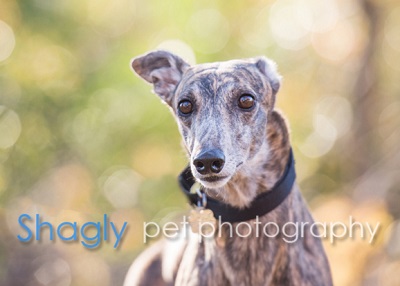 Dini, aka RF Houdini, is a 3 1/2 year old brindle female born April 23, 2012. Her sire is Oshkosh Slammer, and her dam is Superior Decca. Dini has 94 races to her credit at Gulf Greyhound Park, with almost half being in first, second or third place during her 23 month career. That came to a halt on Thursday, October 8, with a central tarsal bone fracture in her left rear leg. Surgery is scheduled with Dr. Doug Lange of Dallas Veterinary Surgical Center on Monday, October 12.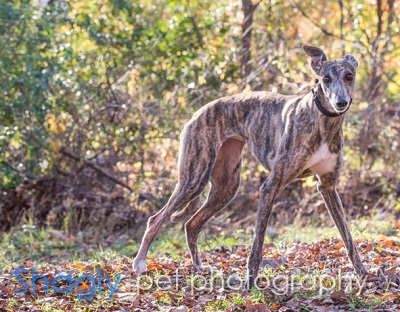 Dini has not yet been tested with cats or other small animals.
UPDATE 11/4/15
Dini's surgery was performed by Dr. Doug Lange of the Dallas Veterinary Surgical Center on October 14, 2015, with the placement of a plate and screws. Dini is receiving weekly bandage changes to her splint, and follow up x-rays are estimated for approximately December 10, 2015. She is being kept very quiet in her foster home during this time.
UPDATE 12/18/15
Dini has completed her medical procedures and will be leash walked for the next two weeks. This fun girl is ready to find her forever home! The plate and screws implanted to repair her leg may be need to be removed at a later time if irritation occurs. Her leg appears to be fine and healed!
Dini is an absolute doll! She is petite, adorable, loves kisses and has perfect housemanners. Dini does live up to her name –Houdini! You have to watch her; she can be an escape artist. While she was recovering from her broken leg, she somehow managed to get out of her crate (and bandage). Since she was a champion racer, she thinks any door is the starting gate so we are very diligent to make sure she is restrained when opening the door. Dini loves to go for car rides and walks. Due to her rehabilitation, we have kept the walks short. While we are out, her ears and eyes are always searching for critters – and she is a lot stronger than her size would lead you to believe. Dini expresses her needs with a whine – to eat, to go out or if she misses her human…and she knows how to tell time! Dini lets us know when it's 5 PM and time for supper or 6 AM and time to get up. To date Dini has had no desire to get on the furniture and prefers the comfort of a slumberball or any other dog bed. It has been a pleasure to foster Dini and we know she will make a great addition to someone's family as an only dog or with other greyhounds. This little girl is ready to steal your heart!

Dini's Foster Family
More of Dini