Sam's Story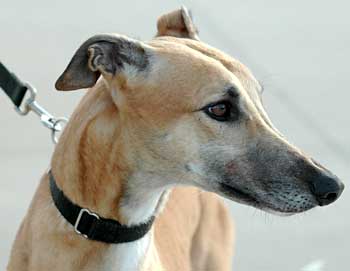 Sam disappeared from his foster home on Sunday, March 13, 2005 – a greyhound owner and foster's worst nightmare. Sam's story has taken a little time to unravel. All indications are that he was picked up within several days after he disappeared and taken to a mechanic shop in East Dallas. The owner of the shop knew a man who owned a ranch south of Dallas, and Sam was taken there. After some time, a kind friend of the ranch owner saw Sam in an outside pen and encouraged the ranch owner to let her call a greyhound adoption group.
GALT received a phone call on Friday, April 22 around noon from GALT's special friend, Mary McAnnally, who had been contacted about a greyhound matching Sam's description. Mary knew about Sam from one of the key searchers, Sammye Conway, whom she called. Sammye picked up Sam and took him to Preston Park Animal Hospital, where he was deemed to be in relatively good health and condition by Dr. Jeff Ellis.
Miracles can happen and having Sam returned to GALT is truly a miracle. A simple "Thank You" is not enough for all the time and efforts committed by so many in looking for Sam – but the feeling we all have in our heart says it all.
On behalf of Sam, GALT wants to thank Sam's foster family, Dawn, Clyde and boys, Sammye Conway, Suzanne Burke, Carol Sahlfeld and the many other volunteers for their support and efforts during this very trying time. For six weeks so many GALT volunteers worked tirelessly, following up on many leads and posting over 1000 flyers in a large area. Michael McCann, of Boston, MASS, was a huge help in sharing his wisdom of looking for "lost greyhounds."
And, as a true fairy-tale ending, Sam, has been adopted by Suzanne Burke and Shawn Fernandez, who are the proud parents of greyhounds, Allie and Huston, into their family. Sam is fitting in so well, and loves his soft bed, toys, treats, walks in the park and especially his dinner time meals!
From Sam's Foster Family

Now that Sam is safe in his new home, my family and I want to thank every one of you who helped search for him during the past six weeks. I was amazed at the dedication and love of everyone involved in the search. Most of you had never even met Sam, yet I saw so many people give up their time and energy to search for this wonderful dog. I must admit to almost giving up a few times along the way, but your faith that he would be found kept us all going. It was wonderful to see this GALT community in action. What a wonderful greyhound community it is!

Again, many thanks!

Dawn, Clyde, Noah & Sawyer
From Sam's Adoptive Family

I did not get involved with Sam's plight until about 2 weeks after he had been missing (I'm currently in school and working, with little extra time on my hands). I had been following all the details folks were providing and finally couldn't help getting involved.

As we worked to pull together volunteers (thanks Kristin and everyone!) to post flyers throughout the Swiss Avenue, Lakewood and White Rock Lake communities and establish some feeding stations where we had sightings, I became closer to Sam's situation. I cannot tell you the many thoughts and prayers that were pouring out for our lost Sam.

There was one distinct prayer that I always repeated, and that was for Sam to show his face. The night before Sam was found, Sammye and I were replenishing the feeding station that volunteers (thanks to Joe Hoiles for setting this up) had established a couple of weeks earlier. I had Allie with me and Sammye had Mia with her. As we were walking our pups around the lake afterwards, Sammye remarked at the beautiful sunset. She mentioned the clouds that were beginning to cover the bottom of the great orange ball in the sky. As strange as it may sound, these clouds began to form a shape. It was a distinctive shape of a greyhound's head. We were in awe of what we were witnessing. Just as quickly as the image appeared, it vanished. We walked away from the park to our cars trying to understand the meaning of the figure we had just observed together. This image stayed with me most of the evening.

I recalled a vivid dream I had experienced 10 days earlier where I clearly saw Sam lying in a crate with his legs crossed, looking so serene. An orange tabby cat lay next to him on the outside, like the one we had seen previously at the Bathhouse, near the feeding station the first night we set it up. I remember wondering what this all meant. In hindsight, I now know this was divine intervention, and Sam was showing me his face in various ways.

The next day, I got the call from Sammye that they were fairly certain Sam had been found. You cannot believe the excitement we all felt when we found out the ear tattoos confirmed it was Sam. We all had our Sam back! It was a truly amazing experience to be a part of this emotional event, especially working with all the various volunteers, Sammye, Dawn, Carol, Nancy, Gail and Amy. Everyone was just so awesome. I don't think I have ever witnessed such an outpouring of love, hope and support - all for the love of a special greyhound! Truly amazing - each one of you that played a part - whether physical or in spirit!

I had made a promise to Sam (in my many conversations with him) that there would be a permanent home for him when he returned back to us. Although I imagined this would be someone else, Shawn and I decided we could fit one more into the brood. We had fallen in love with Sam even before we saw him - through a special connection, I believe.

Sam fits in perfectly with our family. Allie, Huston, and Sasha have accepted him so easily and Allie has really taken to playing with him lately. Simba, the black oriental shorthair cat, allows Sam to head butt him, so there was instant acceptance from the household "cat diplomat." Sam appears to be so happy, and you can imagine he is extremely spoiled. He will begin his formal greyhound obedience training with Mary Waugh Swindell's class in early June, so keep your fingers crossed that we can get him to sit. Our house runneth over with love and joy! Thanks to all of you for your special love and support!

Suzanne