GALT's Valley Greys
Valley Race Park in Harlingen, Texas closed for live racing in 2009. GALT operated a adoption kennel there from 2003 to 2004.
The Valley Race Park in Harlingen, Texas, in the Rio Grand Valley opened again on November 28, 2003 and remained open during the racing season, closing on April 4, 2004. GALT opened the Adoption Kennel on the track grounds for its second year. In summer 2003, Alan Hebzynski moved to the Valley from Minnesota where he and his greyhound, Roxy, were very involved in greyhound adoption. GALT is greytful to have Alan as a GALT volunteer to promote greyhound adoption and awareness in the Valley area.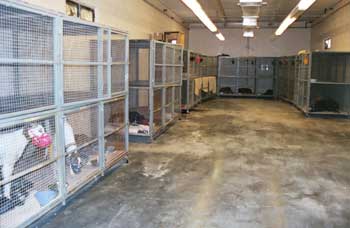 GALT opened the kennel on December 10, 2003, but had already received two dogs with broken legs before its doors were open. After seven weeks, GALT had received 59 greyhounds into its program. Greyhounds came and went throughout the season. Some of these dogs were taken by other greyhound adoption groups in Texas and some were absorbed into GALT's adoption program in North Texas.
In March 2004, Roger Robinette of TLC Express took 37 greyhounds to adoption groups in Colorado and Idaho. When the season closed in April, TLC brought 47 greyhounds to Dallas, where they were taken off the bus, exercised, and 30 dogs were re-loaded and were delivered to groups in New Mexico, Colorado and California. The remainder of the greyhounds left in Dallas were delivered to other groups in Texas and Oklahoma or were kept by GALT.
GALT is proud to say that it received and placed a total of 137 greyhounds during the 2004 racing season from the Harlingen track. It placed approximately 100 greyhounds from VRP during the 2003 season. Some of the dogs received were injured. GALT treated eight greyhounds with broken legs in addition to the torn Achilles tendon and other injuries.
As you can imagine, the expenses incurred by GALT for the care of these greyhounds was enormous, including kennel costs, food, medical supplies, medical care and transportation. Transportation from Harlingen to other parts of Texas and out of state totaled almost $8,000.00 and the medical costs, including surgeries, exceeded $16,000.00 for just this one season. GALT's total operating costs for the 2004 season at VRP was in excess of $36,000.00.
There were many greyhound lovers who generously donated money to help GALT pay for its 2004 operation in Harlingen. GALT would like to thank the following people and organizations for their support of GALT's efforts to retire greyhounds from VRP to their forever homes:
Gabriel and Annabelle Ben-Abraham
Cryptic Creations
Nick Greeley
Jo Ellyn O'Donnell
Dagmar and John Bogan
Audrey Rapp
Julie Fernald
Ellen Sanchez and
Ceilidh Charleson-Jennings
Lynn and Mary Frederickson
Keith and Sally Woodcox
Chris Crawford
Glenn and Mary Lower
Mikio and Christina Nihira
Robin Pittenger
Greyhound Companions of Missouri
Nancy Burt
Mik and Matt Wilkens
Elizabeth Cobb
David and Marilyn Cole
Cynthia Hanson
Northcoast Greyhound Support
Michelle and Doug Hamilton
Dixie Laney
Amy and Nadav Sela
Ingrid Kjelstrup
Brad Duelks
Mary Nooney
Alane Shultz
Lyn Abissi
Chava Spirithorse
ASPCA
Greyhound Pets of America -
Springfield, Mo. Chapter
Denise Saleh
Carpe Canem
All participants in the 2004 online auctions
GALT hopes to continue to make a difference - one greyhound at a time. GALT appreciates your support of this effort.
GALT's original Harlingen greyhounds (Hickory, Altus, Morris, Salty, Bruce, Lucy, Speckles and George) are very special as they led GALT to operating the kennel in Harlingen.
Here are pictures of some of the 2004 Harlingen greyhounds who have gone to their forever homes. The very attractive GALT handler is Lexi Padden.
If you would like to learn more about GALT's Harlingen operation, read the article entitled "The Harlingen Haul" in the 2003 past events.